Net Metering is an innovative idea that overcomes the wastage of electricity for those with a tremendous amount of electricity concerning their use. It benefits schools, colleges, banks, petrol pumps, and other prominent institutes. You can save your money and also earn credits from distribution companies. If you want to know tips and trick about how to reduce electricity bills, you must read.
How does Net Metering Work?
Green Metering is a trending idea nowadays proposed by Water and Power Development Authority Pakistan. It works according to the give-and-take rule. If you have a solar PV array that produces more energy than your use, you can sell those units to distribution companies. For this purpose, you should meet the criteria declared by NEPRA.
After completion of the application procedure company will issue a Solar Meter. It's also known as the green meter and 2-way meter. It imports or exports electricity in both directions from the solar panel system to the grid system and vice versa. You can check fesco bills here. A detailed diagram is given below: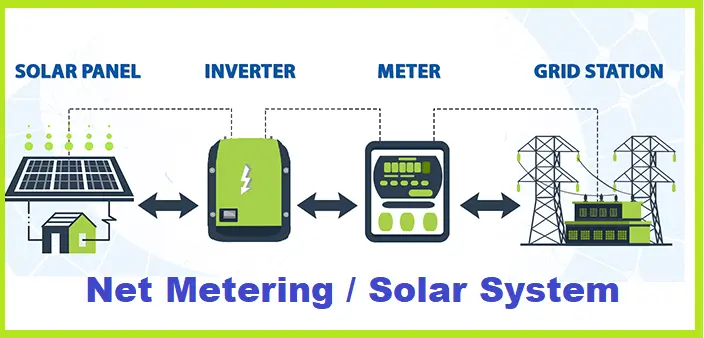 What are the Advantages of Net Metering?
What are the Disadvantages of Net Metering?
How Much Time is Required for the Net Metering Installation Process?
Sr. No.
Responsibilities
Days
Application
Apply along with the required documents to the concerned office, and after verification, they will respond.
5
Review Process
The company will check whether the applicant fulfills the criteria (technical feasibility).
20
Agreement signing & licensing
Sent agreement copy to NEPRA
Company issues estimated charges
Applicant makes payment of estimate charges
Net Metering shall install
64

Billing
File send for billing
depends on company to company