Check Gepco Duplicate Bill Online
Managing your utility bills online has become increasingly popular and convenient in today's digital era. This article will guide you on checking, downloading, and paying your Gepco bill online. Whether you're looking for a duplicate bill, tracking your bill's status, or exploring payment options, we've got you covered. Let's dive into the world of managing your Gepco online bill seamlessly through online platforms.
Gepco Bill Check Online
It's a very innovative step to facilitate Gujranwala Electric Power Company consumers to check their Gepco duplicate bill online at their home no need to go anywhere. Gepco Gujranwala offers many ways to check your Gepco duplicate online bill first and most useful method is to check your Gepco bill online by a 14-digit reference number it's also known as meter no, this is given at the top corner of your Gepco bill print. The second method is to check gepco online bill duplicate by consumer ID.
The third method is you can check the Gujranwala electricity bill by putting ID card number everyone knows their national identity card easily. In this way to can get Gepco's latest bill information like the Gepco bill issue date and track the status of whether the bill is paid or not, you can also view the history of previous months' paid or not paid Gepco print bill. After viewing the Gepco web bill you can download it in PDF format for future use.
Gepco Online Meter Reading Check
A specific person that's designated as a meter reader, reads the consumer's current meter reading and then minus the current meter reading from the previous month's reading in this way he calculates the current gepco gujranwala bill online.
Gepco Online Bill Not Found
Most of the Gujranwala Electric Power Company users face these kinds of error messages while checking their gepco bill online check near Mandi Bahauddin, there're many reasons behind these errors first maybe you selected the wrong electricity distribution company because 10 different companies are working in different areas of Pakistan. So, make sure you're selecting your desired company, and then the second most common mistake observed is entering the wrong reference number and the other reason is poor internet connectivity. If you're still facing issues you can contact our complaint cell they guide you.
Gepco Electricity Bill Slabs
Gepco Gujranwala bill is divided into various slabs on the top of the bill, connection details like connection date, bill month, issue date, due date, consumer ID, reference number, division, feeder name, etc. On the right side of gepco online bill, history is given the last 12 months' paid bill details, consumed units' payments, etc. On the left side of the bill, you can see the details of tariff charges, gepco charges, Govt charges, and the bill calculation section.
Gepco Address
In 1977, the Area Electricity Board Gujranwala was established as part of the WAPDA (Water and Power Development Authority). However, in 1998, it transformed and became a Distribution Company known as GEPCO (Gujranwala Electric Power Company). This change occurred following the dis-bundling of WAPDA, and GEPCO came under the administrative control of PEPCO (Pakistan Electric Power Company).
Gepco supplies electricity to the following districts of Punjab, Pakistan:
Gepco Bill Helpline
Gepco advised their customer to send their complaints online don't go to any office with the application, and use official complaint number 118.
Sialkot
Ph# 052-9250693-94
In the case of an issue that isn't resolved within the given time then contact the gepco head office complaint cell.
055-9200592, 055-9200504, 055-9200516
Gujranwala Electric Power Company 565/A Model Town G.T Road Gujranwala
Gepco Electric Bill Payment
Pay your Gepco electricity bill offline or online it's your choice, for online you can use Gujranwala electricity bill payment through a credit card or any other method.
Gepco online Bill Calculation Formula
Gujranwala Electric Power Company an approved calculation formula for electricity bill GOP tariff * consumed units = Payable bill. Manual bill calculation is not a cup of cake for this purpose you can use gepco online bill calculator 2023 to estimate upcoming bills.
Gujranwala Electric Power Company Bill SMS Alert
Gepco Gujranwala sends message alerts to their consumers about load shedding schedules or meter reading updates, if you can't receive Gepco messages then complete the electricity bill mobile number registration process to get alerts.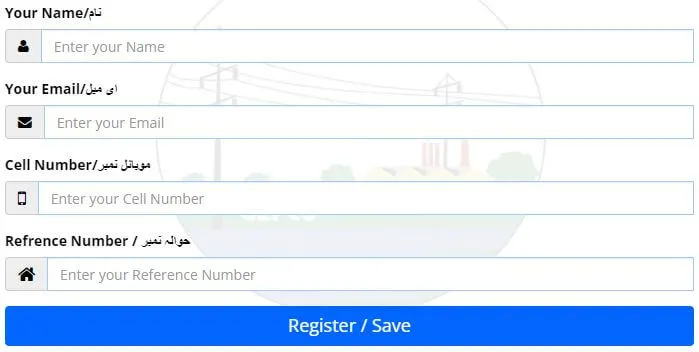 Gepco Application Status
GEPCO (Gujranwala Electric Power Company) has embraced the demand of the digital age by shifting all operations online. They have implemented an online management system for tracking applications, such as new connections and complaints. This system ensures transparency, convenience, and efficient customer service. With this move, GEPCO aims to provide enhanced services and improved customer satisfaction.
Gepco Electricity Bill Unit Rate
The GEPCO bill rates are determined based on the unit rate for electricity consumption. The unit rate may vary from year to year. As of 2023, the specific unit rate for GEPCO electricity bills is not available. However, for the year 2022, the unit rate was used to calculate electricity charges. For the most accurate and up-to-date information regarding the unit rates for GEPCO online bills, it is recommended to visit the official GEPCO website or contact their customer service.
GEPCO MIS
GEPCO MIS stands for Management Information System. The GEPCO MIS is a system that provides comprehensive management information and reporting capabilities for the company's operations. It helps GEPCO gather, store, analyze, and present data related to various aspects of its activities, such as billing, revenue, customer information, infrastructure, and more.
The MIS enables GEPCO to make informed decisions, monitor performance, and improve operational efficiency, electricity equipment like electricity wires, and improve the source of electricity production. It plays a crucial role in managing and optimizing the company's resources while ensuring smooth and reliable electricity services to its customers.
Gepco Online Salary Slip
GEPCO prioritizes employee convenience by providing an online salary slip service. This feature allows GEPCO employees to access their salary slips easily and securely from any location with internet access. By logging into the dedicated online platform using their credentials, employees can view and download detailed salary information, including allowances, deductions, and other relevant details.
This online service streamlines the salary management process, ensuring transparency and offering employees a user-friendly experience when accessing their salary information. GEPCO's commitment to utilizing digital solutions enhances efficiency and accessibility for its workforce, also hiring new employees when needed.
Gepco online Bill Income Tax Certificate
GEPCO provides convenient options for its customers to manage their electricity bills. One such option is the bill installment facility, which allows customers to pay their bills in installments rather than a lump sum. This helps customers effectively manage their expenses by spreading out the payments over a specified period.
Additionally, GEPCO bills may include an income tax component, where GEPCO collects the income tax amount on behalf of the government. The tariff structure embedded in GEPCO electricity bills determines the pricing for electricity consumption, varying based on consumption levels and customer categories. Customers can also request a tax certificate from GEPCO, serving as proof of payment for income tax or other tax-related purposes.