Sepco Online Bill Check
SEPCO online bill is the shortened form of Sukkur Electric Power Company. It's an electric power supply company explicitly serving the Sukkur region of Pakistan. SESCO came into being when HESCO (modified) was bifurcated, such that the regions of operation that were previously wholly under HESCO's control were now shared between the two DISCOs. SEPCO went into work on August 16, 2010.
Areas of Operation of Sepco Online Bill
SEPCO is in charge of smooth electricity distribution in the following districts
Electricity Bill Check
Innovations have continuously moved mankind ahead, resulting in profound developments and groundbreaking changes. In the past, people had to go to banks to submit bills, but now we can pay the bills while sitting in the comfort of our homes; all thanks to science and technology.
If you are looking for options to check your SEPCO bill online, this website is your stop.
You only need your 14-digit reference number or 10-digit customer number to discover your bill online. As you enter your reference number, your bill will be displayed right in front of you. It is very necessary to enter the correct reference number. If you don't remember your reference number, take a look at your previous electricity bills you will find it written in a box in the top left corner.
Online Electricity Bill Payment
Now comes the task of paying the bill, which has become quite easy with the advent of the internet. Following are the approved methods through which you can pay your bills online:
Jazz Cash
Easy Paisa
Internet Banking
Internet Banking
You can go for Internet banking, mobile banking, phone banking, and ATMs. Almost all commercial and government banks provide their customers the opportunity to pay bills online. You can effortlessly pay your bills online through the banks which are partnered with SEPCO.
Jazz Cash Payment of Sepco Online Bill
Perform the following steps to conveniently submit your SEPCO bill through Jazz Cash:
Access your Jazz Cash mobile app.
Select the "Utility Bills" option.
Now, choose the "Electricity" option.
Choose "SEPCO" from the list of service providers.
Fill in the "Reference Number" field.
Now, press the "Fetch Bill" button.
It will display your amount to be paid, the due date, and the billing month
To pay your SEPCO bill using Jazz Cash, click the "Confirm" button.
Easy Paisa
Sign in to your Easy Paisa mobile app.
Select "Bill Payment" from the drop-down menu.
Choose "Electricity" as the Bill Type.
Select the "SEPCO" electric company from the available vendors.
Fill in the "Reference Number" area and click the "Next" button.
It displays your name, due amount, and current status
To get done with the payment of your SEPCO bill using the Easy Paisa app, click the "Pay Now" option.
SEPCO App
SEPCO has recently developed an application named "SEPCO LIGHT". This app has made the consumer's access to billing details more straight forward.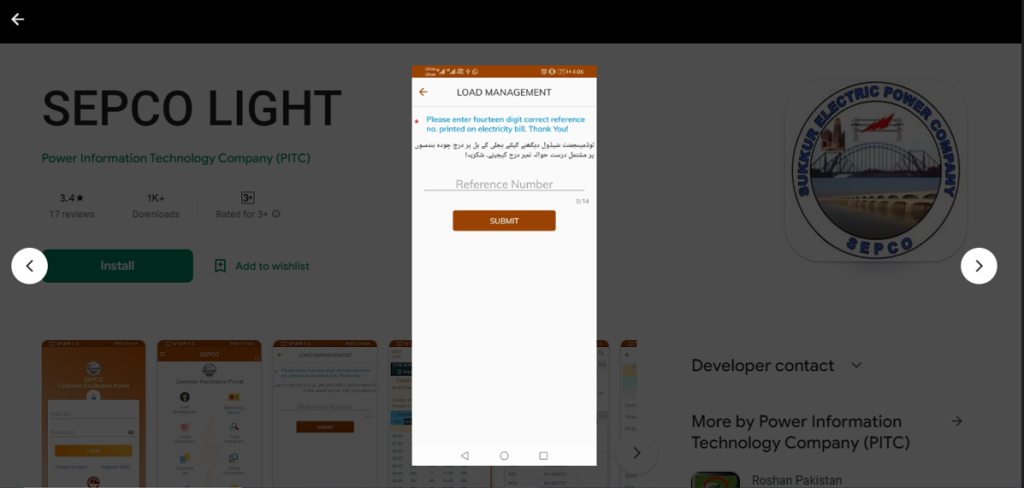 This app not only allows you to access your billing details but also permits you to lodge complaints.
Sepco Online Bill Calculator
Here's a simple SEPCO bill calculator for you if you wish to compute an approximate SEPCO bill amount online based on units utilized for your home connection.
Click here to access the SEPCO online calculator.
Duplicate Electricity Bill
If you have your 14-digit reference number, getting the duplicate bill is only a matter of seconds. It is possible to pay the bill at any branch of a commercial or government bank that is connected with SEPCO.
Other Electrical Companies Bills in Pakistan
Peak Hours
Peak hours are those hours of the day when electricity demand is at its peak and the price per unit of electricity increases. It is advised to limit your electricity usage during these hours to get the minimum bill.
As announced by NEPRA, peak hours w.e.f. from July 1 are 5 pm-11 pm, the rest are off-peak hours
During peak hours electricity rate is 49.35 per unit, while for the rest of the hours electricity price is 33.3 per unit.
Unit Price
The unit tariffs in the household sector as specified in Pakistan's general tariff are:
| Units | Price |
| --- | --- |
| Up to 50 units | 26 |
| 1-100 units | 36.59 |
| 101-200 | 38.41 |
| 201-300 | 39.53 |
| 301-700 | 41.07 |
| More than 700 | 42.61 |
Sepco Online Bill Tariff / Taxes
A tariff is a levy for the use of energy. Customers' power usage costs are governed by their tariff rate. The tariff rate varies depending on whether the consumer is residential, commercial, or industrial, and it rises with increased usage levels.
Apply For Connection
SEPCO online bill has made the entire process of applying for a new connection incredibly convenient for its clients. Customers are no longer required to travel to a customer care center or the corporate headquarters, stand in line for hours, and then complete a physical application form to apply for a new connection. In the past, the entire procedure was frantic, time-consuming, and expensive. Now, SEPCO has digitalized the entire process to make it more comfortable and less time-consuming. Everything can now be done online.
Following are the steps you've to carry out to get a new connection:
Visit ENC.com.pk for more information.
Click the "Apply" button.
Choose your company, for example, FESCO, LESCO, MEPCO…
Choose a Load Category
Choose your Connection Type
A form will display; complete it here.
Please include scanned copies of the required documents.
Following are the required documents
Proof of ownership
Undertaking the form of the applicant
Owner's Attested Copy of CNIC
For double phase meters, attested CNIC copies of two witnesses are also required
If you're a renter you have to submit NOC from the landlord
Copy of your neighbor's electricity bill
Submit the application and get a print of it
Attach the copies of aforementioned documents with the application
Dispatch the application to the SEPCO office
The concerned officer will verify your documents
An inspection officer will visit the location
After the clearance, you will get a demand notice
Pay the demand notice at the specified bank within the specified time frame, then send a copy of the demand notice to the SEPCO office
The installation time varies for all categories
Contact Number
SEPCO headquarters is located near the thermal power station, old Sukkur
Contact no: 071-9310795
SEPCO strives to provide the best facility to its consumers. In case you have any complaints regarding bill payments, connections, and load shedding, you can contact SEPCO customer service
Location: Regional Customer Service Center Minara Road Sukkur
Call at: 071-9310921
Precautionary Measures
Generally, in all seasons and specifically during monsoons take special precautionary measures while dealing with electric appliances
Don't touch bare wire wires and conductors for extensions
Don't hang your clothes on electricity cables
Stay away from electric pools while raining
Use fuses of the proper sizes
SEPCO Jobs
Recently, SEPCO job advertisements were published in all the leading newspapers of the country. Candidates from all around Pakistan are encouraged to apply. The SEPCO also has quotas set up for Disabled People and Minorities.
The following positions are vacant at SEPCO
Network Administrator
Financial Manager
Assistant Manager (Civil)
Assistant Manager (Computer)
Assistant Manager (Regulatory Affairs)
If you're interested you can find the application form for SEPCO jobs on the STS website
https://apply.sts.net.pk/?ssid=362
SEPCO emphasizes that only online applications shall be evaluated
After completing an online application, candidates are bound to get a challan form and pay a Rs. 700 application processing fee.
FAQs (Frequently Asked Questions)