Check Lesco Bill Online
Lesco Bill Electricity plays the most vital role in the socio-economic development of a country. From industries to homes, electricity has become a necessity everywhere. LESCO, which stands for Lahore Electric Supply Company, came into existence in 1998 when the framework of WAPDA was disaggregated to transform integrated control over the power sector into self-reliant entities. The primary function of LESCO is to supply electricity.
Its authority encompasses the following five major regions of the biggest province of Pakistan, Punjab.
Approximately 25 million people benefit from the services of LESCO. All the shares of LESCO are possessed by the Government of the Islamic Republic of Pakistan.
LESCO Bill Organizational Structure
LESCO is divided into numerous circles and sub-circles.
Operation Circle
Construction Circle
GSO Circle
| CIRCLE NAME | DIVISION | SUB DIVISION |
| --- | --- | --- |
| North Lahore Circle | 5 | 28 |
| Central Lahore Circle | 5 | 31 |
| Eastern Lahore Circle | 4 | 23 |
| Okara Circle | 4 | 23 |
| South-Eastern Lahore Circle | 4 | 26 |
| Sheikhupura Circle | 4 | 18 |
| Kasur Circle | 5 | 30 |
| Nankana Circle | 4 | 16 |
| Project Construction Circle | 4 | No-Subdivision |
| G.S.O Circle | 3 | No-Subdivision |
Lesco Electricity Bill Check
Humans always look forward to innovation to make their lifestyle comfortable and secure. With the advancements in the field of science and technology, everything is now just a click away.
LESCO has also made it possible for its consumers to check and subsequently pay their bills online without any hassle. Go to the LESCO website and check your bill by dropping your 14-digit reference number or customer number and clicking the search button. Your monthly bill is displayed right in front of you. You can view and download the bill on your device.
Please acknowledge that a 14-digit reference number is distinct for every consumer, and it is quite essential to write it correctly in the required tab to check the bill. We'd advise you to keep the number in your memory or have it written somewhere else. You can use an electricity bill calculator to calculate the electricity and also know about how to reduce electricity bills.
You can check your electricity bill for this month by clicking the link given below and following the aforementioned steps.
Click here to visit the official website of LESCO
You can also view your bills for previous months.
LESCO App
To make the process of checking online bills even more feasible, LESCO has launched its mobile application. You can download it from the Play Store.
Consumers can check their electricity bill by entering the reference number.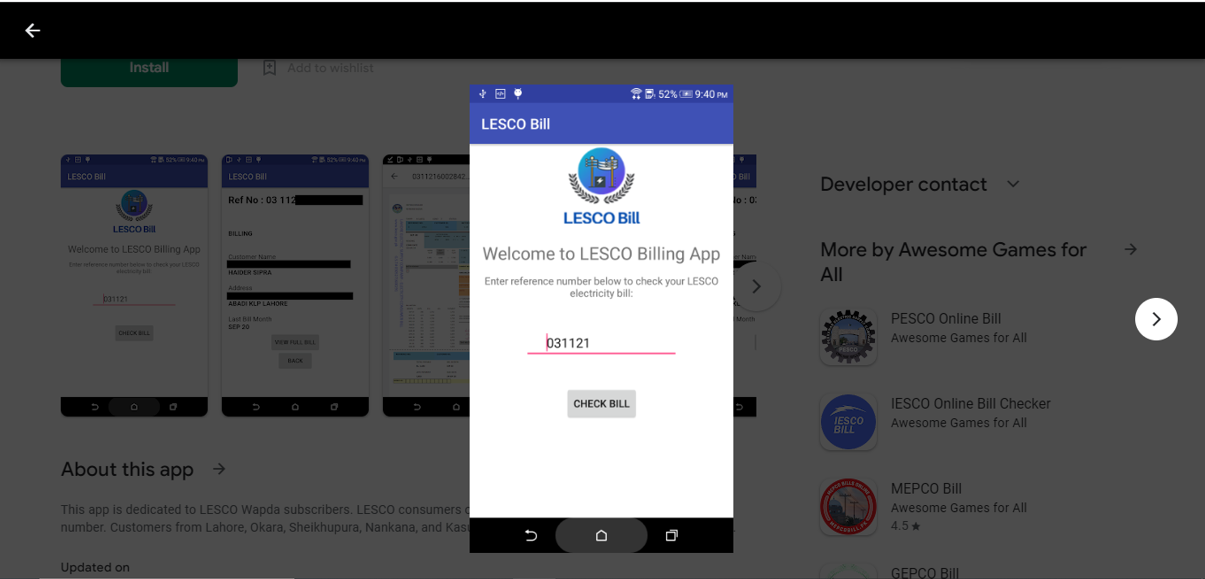 Other Electrical Companies Bills in Pakistan
Electricity Lesco Bill Calculator
A simple LESCO bill calculator for you if you wish to compute an approximate LESCO bill amount online based on units utilized for your home connection.
Click here to access the LESCO online bill calculator.
Keep in mind, that this calculator is solely designed for 'Residential' connections
Duplicate Electricity Bill
LESCO can also provide you with a duplicate power bill. You can pay your bill online at any commercial bank that has been authorized by LESCO by providing your reference number or consumer ID, of course.
Due Date
After receiving the bill for the month, you have 7 grace days to make the payment. If, for whatever reason, you fail to pay the bill on time, don't worry about it. You can pay the bill after the due date; it's just a little heavy on the wallet. If you don't pay your bill then according to company rules they cut off your connection.
Per Unit Price
With the economy dwindling and inflation on the rise, the price of electricity has also increased incredibly. With the recent increase, for domestic consumers, the price of the first 100 units is now equal to Rs 12.90 per unit, and after 100 units, the price per unit is equal to Rs 13.54.
| | |
| --- | --- |
| Units | Per Unit Price |
| 0-50 | 3.95 |
| 51-100 | 7.74 |
| 101-200 | 27.32 |
| 201-300 | 31.51 |
| 301-400 | 38.41 |
| 401-500 | 41.62 |
| 501-600 | 43.04 |
| 601-700 | 44.18 |
| 700 and above | 49.10 |
Lesco Peak Hours
LESCO peak hours are normally a few explicit hours in a day when power utilization gets at its pinnacle and, as a result of the demand and supply difference, prices for one unit rise somewhat.
| | |
| --- | --- |
| MONTHS | PEAK TIMING |
| December-February | 6pm-10 pm |
| March-May | 6 pm-10 pm |
| June-August | 7 pm-11 pm |
| September-November | 6 pm-10 pm |
Lodge A Complain to Lahore Electric Supply Company
If you are facing any issues related to net metering, billing, payment of bills, or load shedding, you need not worry because LESCO is just a text away. Send a message to 8118 with the bill reference number, consumer name, and issue description, or phone 118 for a speedy solution.
You can also drop in your queries under their posts on social media platforms.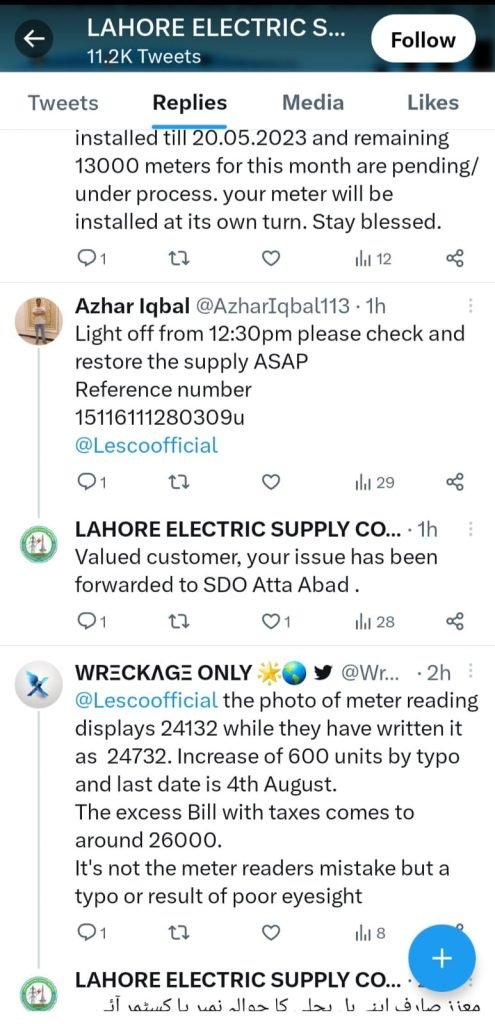 In case your problem is not resolved immediately, you can visit your nearest connected office to lodge the complaint.
Electricity Usage
During the summer season, electricity usage multiplies, and so do the Lesco bills. In the current economic situation, when the price of almost everything is skyrocketing, you can follow these guidelines to get the minimum electricity bill.
Keep the unessential lights, fans and other electricity appliances switched off when not in use
Use energy saver bulbs instead of conventional electric tubes
Avoid using a lot of electricity during peak hours
Whenever buying an air conditioner go for an inverter as it consumes less electricity as compared to split AC.
LESCO Jobs
Unemployment is one of the key issues in Pakistan. Thousands of bright students graduate from world-class universities. LESCO is a government department offering jobs to the people.
This week, LESCO issued a job posting with more than three openings.
These job opportunities are available on a contractual basis with a six-month trial term. Candidates from all around the country are welcome to participate in the hiring process.
Download the application form by clicking the link below
Fill out all the boxes attentively
Attach the attested copies of the following documents with your application
Domicile
Documents related to your education
Identity card (CNIC)
2 passport-size photographs
Send the application last date to apply for a job is 06 August 2023. Hurry Up!
FAQs